Greetings from Mark Mirotznik
Interim Chair of the Department of Electrical and Computer Engineering at the University of Delaware
Welcome to the Electrical and Computer Engineering Department at the University of Delaware. Established in 1891 as the Electrical Engineering Department and renamed in 1996 to reflect the importance of computer engineering within the field, UD's ECE department is among the oldest in the discipline but remains one of the most innovative.
The ECE Department offers fully accredited B.S., M.S., and Ph.D. degrees, superb faculty, and excellent research facilities that place the department among the country's premier research departments.
Our program is laboratory and research-intensive. Hands-on laboratory experiences start in the freshman year and are integral to the program, as are out-of-the-classroom research experiences. The Carnegie Foundation recognized the University of Delaware as one of five leading institutions providing active learning experiences, while the National Science Foundation recognized UD as one of 10 institutions exhibiting leadership and meaningful results in the integration of research and education.
We encourage entrepreneurship. A company founded by ECE faculty and students developed the key technology in the iPhone's multi-touch interface. Multiple faculty and former students have founded start-up companies; the entrepreneurship courses we developed with UD's Lerner College of Business and our departmental culture foster such developments.
I encourage you to browse through our individual faculty, departmental center, and education & research program pages to discover the many innovative individuals, projects, and programs that together make the UD ECE program truly unique. You are welcome to talk to our alumni, who have become leaders in all areas of the ECE discipline—they are the greatest testament to the depth, vitality, and lasting value of a degree from the Electrical and Computer Engineering department at the University of Delaware.
Outstanding Faculty
1 NAE member
14 IEEE/ACM/OSA Fellows
15 NSF CAREER awardees
Two PECASE awardees
Six Named Professors
30 total members
Thriving student population
391 undergraduate students
297 graduate students
World-class facilities & active research
40,000 ft.² of department, laboratory, and clean room facilities
iSuite – encompassing Cyber Range, Maker Space & Collaboration Hub
Facilities are fueled by $10M/ year of research expenditures
Areas of student and faculty research strength include:
Cybersecurity
Signal Processing, Communications & Controls
Computer Engineering
Nanoelectronics, Photonics & Electromagnetics
Power, Clean & Renewable Energy
Biomedical engineering
The graduate engineering programs at the University of Delaware are in the top 50 by U.S. News & World Report.
We've been recognized for our growing graduate program and record levels of research funding, which support leading research in computer engineering, signal processing and communications, controls, nanoelectronics, photonics and electromagnetics, bioengineering, and renewable energy. ECE graduate students studying in these areas work with award-winning faculty in state-of-the-art laboratories. Moreover, nearly all full-time graduate students in the ECE Department are supported by competitive teaching or research assistantships that cover tuition costs and living expenses. The graduates of our MSECE and Ph.D. students are sought out by top companies, research laboratories and institutions, and universities.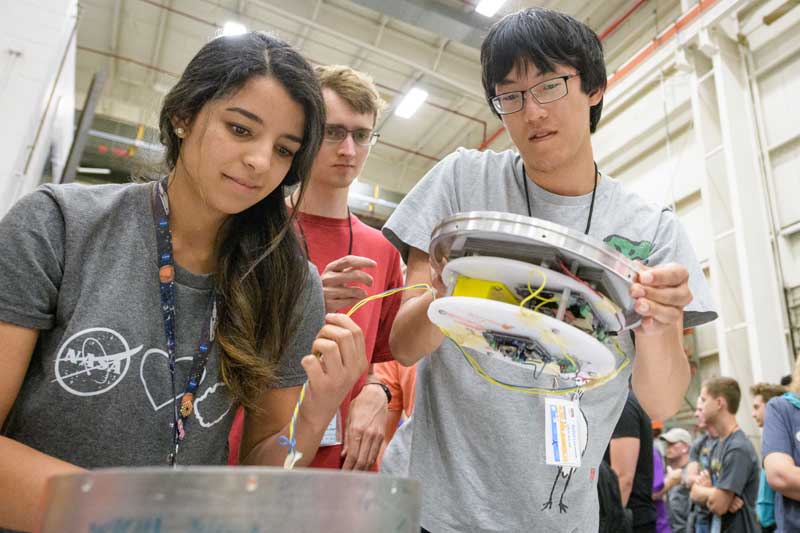 Our undergraduate program offers Bachelor degrees in Electrical Engineering (BEE) and Computer Engineering (BCpE), both accredited by the Engineering Accreditation Commission of ABET.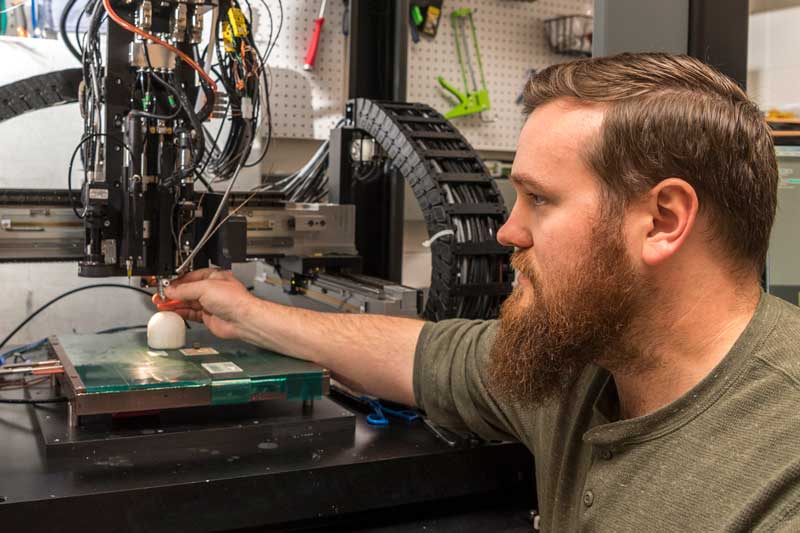 Options include Master's, Ph.D., online graduate degrees, as well as a 4 + 1 combined Bachelor and Master program.